Owl Key
200px
First Seen
Use
Controls owl automaton
Door
Unknown
Creator
Harlan Locke
Issues
1
When Mark Cho finds Ellie unconscious in the Wellhouse he takes the Owl out of his backpack and sends it to find Rendell. When it brings him, Erin and Kim back to the wellhouse, they find Mark dead. They go down to the Drowning Cave without the Owl.
When Ellie wakes up, she goes after them through the secret tunnel, bringing the owl. She makes the Owl snap the Shadow Crown off of Dodge's head, making the shadows holding the cave up disappear.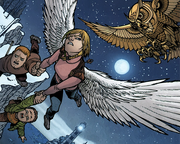 Dodge uses the Owl to attack the kids on February 10.
Ad blocker interference detected!
Wikia is a free-to-use site that makes money from advertising. We have a modified experience for viewers using ad blockers

Wikia is not accessible if you've made further modifications. Remove the custom ad blocker rule(s) and the page will load as expected.