Al Grubb
First
Status
Gender
Eyes
Cause of Death
Issues
Al Grubb was a former classmate of Tyler Locke and Sam Lesser in San Francisco.
Al Grubb worked at a car wash in San Francisco, where he developed an infatuation with Nina Locke, who he knew to be the wife of his guidance counselor, Rendell Locke.[1]
He eventually went to Willits with Sam Lesser, who was taking instructions from Dodge. The pair presumably killed a man and a woman and stole their truck. They invaded the Locke family's vacation home. While Rendell was held at gunpoint by Sam, Al proceeded to rape Nina.
Al came out of the room after hearing Sam shoot Rendell. He then ordered Sam to pursue Tyler, Kinsey, and Bode Locke. Tyler eventually overpowered Sam, but soon found himself unarmed before Al. Al briefly wondered where he left his hatchet before Nina drove it into the back of his head, killing him.[2]
Head Games
Edit
When the Locke children discovered the use of the Head Key, they saw memories of Al and Sam Lesser inside Bode Locke's head.[3]
During Dodge's attack, one of the shadows in Keyhouse took the form of Al. It nearly killed Nina with a hatchet, but was dispatched by Daniel Mutuku.[4]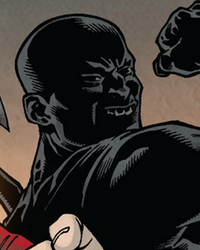 References
Edit